Upcoming Concerts: 2023-2024 Season
All concerts begin at 2:00 PM unless stated otherwise. Each concert runs about 45 mins to 1 hour.
Our concerts are held at Gloucester Presbyterian Church at 91 Pike Street.
Concerts can also be enjoyed online via live stream on our Facebook page. A Facebook account is not required.
Note: The Greenboro Porch concert on Sat Sep 23, 2023 will NOT be available live stream.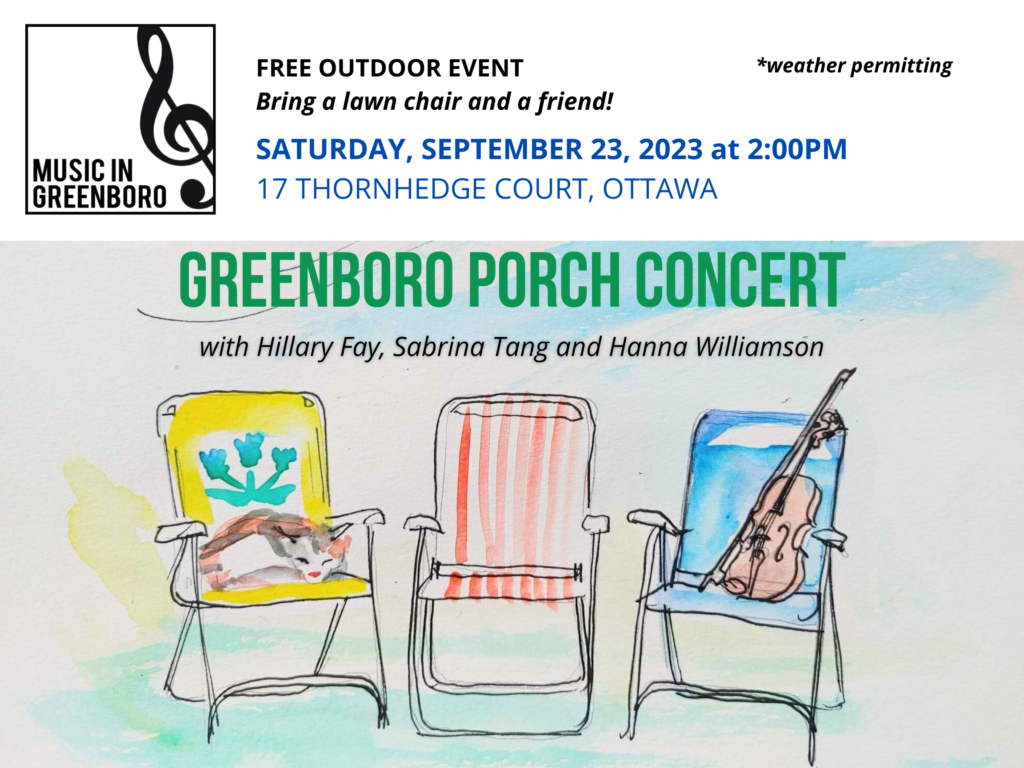 2023-2024 Season
Sep 23, 2023: Greenboro Porch Concert @ Thornhedge Court
Oct 28, 2023: Remembrance: CAF Chinook Woodwind Quintet + Friends
Dec 2, 2023: La Bell Ensemble
Feb 3, 2024: Preludes with pianist Laura Altemueller
Mar 23, 2024: Lost and Found: A Cabaret of New Beginnings, presented by Lost Baggage Musical Theatre
May 4, 2024: Piano Palooza: Star Wars Edition
Past Concerts
2022-2023 Season
Sun Apr 23, 2023 at 2:30 PM: Joe Trio
2021-2022 Season
Sep 25, 2021: Tea for Three – LIVE STREAM
2020-2021 Season
Oct 17, 2020: Tea for Three – LIVE STREAM
2019-2020 Season
Sep 28, 2019: Zak Pulak and the SHHH! Ensemble
Oct 26, 2019: Canadian Armed Forces: Serenade of Strings
Nov 30, 2019 at 3:00 PM: A Christmas Carol with Tom Allen (CBC Radio)
Jan 25, 2020: La Bell Ensemble
Feb 29, 2020: Piano Palooza! & Christian Damus
Mar 28, 2020: Rising Stars — cancelled due to COVID-19
May 2, 2020: Aella Choir– cancelled due to COVID-19
2018-2019 Season
Oct 20, 2018: On Broadway
Dec 1, 2018: Voices in Harmony, A Fundraiser for Gifts of Grace
Jan 26, 2019: Strings in Concert, Quatuor Sabayon
Feb 23, 2019: And All That Brass! With The Ottawa Brass Initiative
Mar 30, 2019: Triptych Piano Trio
May 4, 2019: Sounds of Spring
2017-2018 Season
Oct 22, 2017: The Best of Broadway
Nov 25, 2017: Centretown Brass Quintet
Jan 27, 2018: Strings in Concert
Feb 24, 2018: Songs from my Vault, with Doug Martin and Yvs Laroche
Mar 24, 2018: Piano Palooza!
May 5, 2018: The fiVe Woodwind Quintet
2016-2017 Season
Sep 24, 2016: Vocals, Violas and Piano
Oct 29, 2016: Broadway Blitz!
Nov 26, 2016: Maple Leaf Brass Band
Feb 25, 2017: Strings in Concert
Apr 29, 2017: Spirit of Survival, Doug Martin Duo with Ian Card
May 27, 2017: Celebrating Canada's 150th